WHY ARE YOU STILL SCORING HIGHER THAN YOUR POTENTIAL?
I literally practice once a week at home and once a week at the range and I'm playing the best golf of my life.

The thing is, I'm no different than you.  I'm no super jock guy, in fact I am just a regular guy –who just finally "figured it out".
We all want the same thing, to shoot lower scores while practicing less, I have to many responsibilities to be spending hour after hour at the driving range, plus a bucket of balls is $10 nowadays, I know guys that spend $50 bucks a week on balls who could save time and money if they knew what I know.
How would it make you feel to shoot under par?
It doesn't matter if your a 25 handicap slicer, this information gives you the tools to really do it.
You know that KNOWLEDGE is power, but did you know that more than 97% of golfers don't know these secrets.
Learn the tips & methods you need to shoot in the 60's, 70's & 80's.
Forget hitting 100's of balls at the driving range those days have gone.
Your friends wont believe their eyes
4 Series, 35+ videos all for $47

I truly believe that there isn't a golfer on the planet who doesn't look in the mirror and think "I should be scoring better than I currently am"  well it took me nearly 7 years to discover this system but now I can't believe the pain I used to put myself through.
Last week I shot 2 under par for 9 holes and even had a 3 putt on the 7th green, I'm more confident than almost any other player at my club…..that may sounds arrogant – but I know it's true.
After spending a few minutes each day putting into action the tips I was learning I started to forget the ball and concentrated on where I wanted it to go, I quickly realized that with my old system it had always been about swing thoughts, hard to reach seemingly impossible movements and jerky unbalanced swings that rarely sent the ball anywhere near where I was aiming.
Remember: "Its not the player you were, but the player you can be"
You want results but don't have the time to practice for 10 hours a day this is the system that not only short cuts you to quick success but keeps you there permanently.
After I broke 80 for the first time I called my best friends Dad who had always been heavily into golf and had basically read every book ever written on the swing yet had only once scored in the 70's on a par 68 course 10 years ago.
I explained my own story to him and although we had only played golf 4 or 5 times I had never broken 100 with him.  After hearing my tales of 3 birdies in a row at one course and an almost eagle on a par 5 rather sceptically he purchased the program and promised to let me know how he got on.
After only 4 days he called me to tell me that he had shot an 80 at his home course, 5 shots lower than his personal best for the last 5 years and then exactly 2 weeks from the day he first bought the program he shot 78 and had 4 birdies including a shot to 2 feet on the par 3 17th .  Richard could not stop talking about the difference in his game, the confidence he felt standing over the ball even when there was a water hazard or out of bounds.  He suddenly stopped thinking about all his old worries and started to concentrate on making par's and the occasional birdie.  He told me that 2 days before his round of 78 he'd shot an 81 with an 8 on the 3rd hole.  After reading golf book after golf book for almost 40 years suddenly at the age of 57 he was swinging the club like a twenty year old and thinking about nothing but where he wanted the ball to go.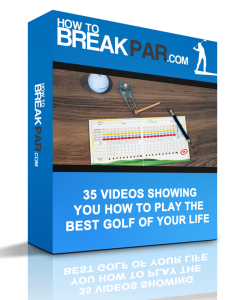 IT BECAME VERY CLEAR THAT you guys want the truth……but you need it as clear, as simple and as fast as possible.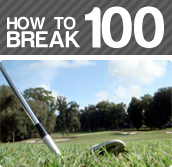 RRP $68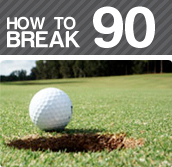 RRP $78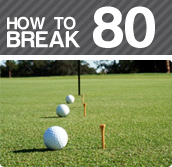 RRP $88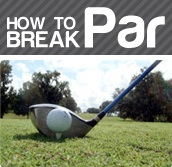 RRP $98
I created a method that's easy to remember and more importantly actually works.
The 'How to break par' series of videos is broken down into 4 parts.
How to break 100 (RRP $68)
How to break 90 (RRP $78)
How to break 80 (RRP $88)
How to break par (RRP $98)
Each section has 6-9 videos which break down the secrets, tactics and methods of breaking par. The lessons that European Tour coach Dave Marsh shows you in this exclusive series will have you shooting your best scores ever. In fact I am so confident that you will shoot your best score that I will give you your money back if you don't.
For a very limited time only we are selling all 4 series of videos for $47 saving you $295.
But be quick as this price is only available for a very limited time.
If you were to have personal lessons with Dave Marsh, by the time he had covered all the information he lays out in these videos you would have a bill for over $4500. Never before has Dave revealed these secrets.
There is no need to watch hours and hours of DVD's, lessons on the golf channel and reading magazines, these videos are straight to the point and guess what you get access to them instantly so can start improving right now!

Don't just take our word for it, here is what a few of our members think.
"I wanted to start again with a totally new game plan and luckily my work college turned me onto the "How to break" series. I wasn't sure what direction to go in before but this info is amazing amazing amazing. During one round all I focused on were the methods explained and instantly I scored 12 shots lower than ever before, straight off the bat. Buy it you'll luv it"
Ryan Kempton, Santa Barbara
How can I say this without sounding like a complete jerk? Ok, here I go…
Unless you are already shooting under par consistently you need to get this system.  It doesn't matter what level you are (I'm a 5 handicap) it will make you a better player fact, there's a really good chance you've either seen products that teach you the swing or you've spent more money than you should on other programs and websites that claim they will fix your swing, get this system and stop the confusion.
Andy Hatchcliff Surrey, UK
Hey Dave
Great to meet you the other day at Golden Hills.
Thanks for the quick tip on the range, I took the money from the lads that day, something I havnt done for a long time. I got home that evening and bought the How To Break Par series, I've got to say mate, my game is at an all time high, now I haven't broken par… yet! BUT I broke 80 for the first time today and had to email you to say thanks for putting all this together. Let me know if your ever on the East Coast again I'd love to meet up.
Richard. Ocala, Florida
As always, you over-deliver. These videos are fantastic! I like all of the examples you gave, very applicable to my game right now. Thanks Dave! – Kelz
Kelly Zell. Sydney, Austrailia